If you need a commercial electrician in Charlotte, NC, you should give us a call!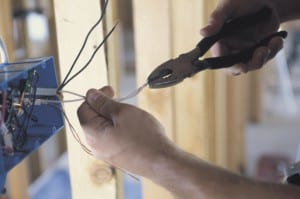 Commercial Electrician in Charlotte – At Lamm Electric, we're the only place you need to turn for all of your business' electrical needs in Charlotte, North Carolina. When we say this, we really mean it.
If you need a commercial electrician, there are several reasons why you should give us a call, which include:
We can work with any type of business—Whether you run a restaurant, a gym, or an office building, we're confident that we can help you with whatever electrical problem you run into.
Our electricians are experienced—This is where we really stand out. When we send a commercial electrician to your location, you can rest assured that they will have over a decade of experience under their belt working with a variety of different electrical systems.
Our services are varied—We can perform service and repairs, wire new construction, do computer cabling, work on generators, wire UPS systems, and more. If you're not sure if we offer a certain service, don't hesitate to ask.
We provide a wide selection of electrical services to residential and commercial locations in Charlotte, North Carolina.
Most importantly, we realize that when your business has an electrical problem, it can't wait for the sake of your employees' safety and the sake of your company's bottom line. We'll send one of our highly qualified professionals over to your location after you give us a call, and once they arrive, they won't waste any time resolving the issue.
At Lamm Electric, prompt, reliable service is what we're all about. The next time you need a commercial electrician in Charlotte, give us the opportunity to go above and beyond your expectations.
For more information on our professional and reliable electrical services, contact us today!

FAQs About Commercial Electricians
When you're busy running your own business, the last thing you want is for electrical problems to interrupt your daily operations. Whether you work in a bakery or a law firm, you need electricity in order to complete essential tasks, reach your customers, and track your employees' hours. At Lamm Electric, we get all kinds of questions about our commercial electrician services, so we've responded to some common queries below.
How is a commercial electrician different from a residential electrician?
Both commercial and residential electricians have similar job responsibilities, but the technical details can vary. For instance, a commercial electrician might have to arrive before or after business hours to repair an electrical issue at a major company. Residential electricians, on the other hand, need to take great care to respect the homes and personal privacy of their clients, who are usually homeowners. The voltages and wiring systems can also vary a lot between commercial and residential properties.
When do I need to call a commercial electrician?
If you're frequently experiencing flickering lights or your circuit breaker keeps tripping, these are some clear signs that electrical repairs are needed. However, a commercial electrician can also help if you're planning to upgrade your appliances, renovate your building, or expand your space. A professional electrician will be able to help ensure that the wiring is done safely and that you'll have enough power to avoid power outages or other issues.
How often do I need a commercial electrical inspection?
Depending on what kind of business you have, you should consider getting a professional inspection every few years. This will help keep your system in good working order and allow you to avoid expensive emergency repairs.
---
At Lamm Electric, our commercial electricians proudly serve Charlotte, Belmont, Huntersville, Indian Trail, Matthews,, Mint Hill, Harrisburg, and Mt. Holly, North Carolina.
Similar Services We Offer: