We are certain to have the tools ready to solve the particular needs of your commercial electrical installation in Charlotte, NC.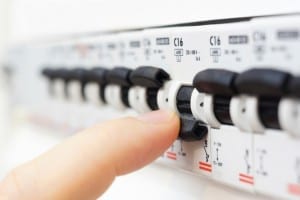 Commercial Electrical Installation in Charlotte – Commercial electrical installation is one of the most important aspects of your business. Without the lights on, no one can truly be open for business. Whether your commercial space is a new construction from the ground up or a space that needs renovation in order to serve the needs of your business and customers better, our team at Lamm Electric is ready and willing to give you the best, most prompt, and most reliable service you could ask for.
The decades of experience on our team mean that we've worked in a wide variety of locations and conditions, and we are certain to have the tools ready to solve the particular needs of your commercial electrical installation. Whether your electrical needs are in an office building, gym, restaurant, or other commercial space, we're here to help your work environment be safe and reliable. Our business is making sure you can focus on the customers you serve and helping your business grow. We make sure that we're able to repair or service any electrical system you might have, which includes servicing generators, wiring new construction, computer cabling, and many other types of commercial electrical installation services.
Put your electrical project into the hands of a licensed electrician you can trust by calling us at Lamm Electric.
At Lamm Electric, we offer our reliable commercial electrical installation services to businesses in Charlotte, NC and the surrounding areas. In addition to the years of experience and the wide variety of commercial and residential applications we've been able to work on in this time, we've always focused on the satisfaction of our customers. We want to make sure that you have the highest quality and most efficient electrical work anywhere. From the smallest residential job to the largest commercial or industrial needs, we work with your schedule to make sure you have the best workmanship in the business. Call us today!
FAQs About Commercial Electrical Installation
At Lamm Electric, we understand that installing a commercial electrical system can feel daunting to even the most experienced business owners. We want to do all we can to ease your stress, so we invite you to take a look at these frequently asked questions and their answers to help you feel more comfortable and confident with the process. We also encourage you to reach out to us if you have additional questions about us or our services!
How experienced are the technicians you send to perform a commercial electrical installation?
Each of our technicians has at least 20 years of experience. We take great pride in being extremely good at what we do, and we understand that experience is invaluable when it comes to electrical work.
Is there an estimated timeline for a commercial electrical installation?
There is no set guide for how long an electrical installation might take. A small building or simple system might only take a few days, whereas a larger or more complex commercial electrical installation can take several weeks or longer. We always do our best to communicate the timeline with our customers; you'll never have to worry about us avoiding your calls or giving evasive answers about how long something will take.
If I'm installing a new system in an older building, will I need to upgrade my electrical panel as well?
This will depend on the new system's power demands and how old the panel is, but generally, we do recommend upgrading the panel as well. This ensures the system does not overload the panel or pose safety risks. Our technician will assess your panel and determine if an upgrade is needed when they come to do your commercial electrical installation.
Can you install an energy-efficient system?
Absolutely! In general, newer electrical systems are always going to be more efficient than older ones, thanks to better materials, but we can also discuss your options for additional improvements like motion sensors, LED lighting, programmable thermostats, and more.