No matter your commercial electrical repair needs in Charlotte, NC, we know we can solve your problems, so you can get back to business.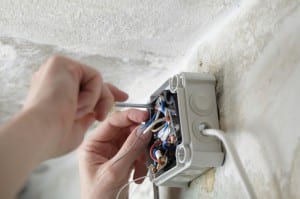 Commercial Electrical Repair in Charlotte – Electricity is an integral part of a business. Not only do employees and customers need lighting to see, but computers and other equipment also need to be in constant working order. If you are in Charlotte, North Carolina and your business has an old electrical system that is in need of repair or needs some new electrical paths installed, we are here to help.
Some of our commercial electrical repair specialties in Charlotte are:
Fuse Box Repair. If your building is older, odds are that it has a fuse box instead of a breaker box. Your fuse box is what keeps wires from overloading and heating up, so it is important to make sure that any problems are sorted out immediately.
Lighting Repair. If you have flickering lights or light bulb sockets that do not work, our professionals can quickly diagnose and repair the issue, so you can get on with your business.
No matter your commercial electrical repair needs, we know we can solve your problems, so you can get back to business. Along with commercial electrical repair, we also do electrical installations. So if your business is planning on adding more lighting or electric equipment, we can help.
Common Questions About Commercial Electrical Repair
Needing electrical repairs is an unavoidable part of owning a building, but that doesn't mean you should trust just anyone to handle your commercial electrical repair work. Here at Lamm Electric, we've been in the industry since 1993, so you can count on us to handle the job when you need us. To encourage you to work with our team the next time you need commercial electrical repair services, we've compiled this list of answers to some of the more common questions our team gets asked.
Is it safe to still work while you're doing repairs?
In some instances, it is possible for you to operate as usual, but this will have to be assessed on a case-by-case basis. We generally recommend reducing your electrical consumption until the repairs are done. Our team will do all we can to prevent disruptions to your operations, but we may need to temporarily shut off your electricity for the safety of our employees and any building occupants.
How can I prevent future problems?
Unfortunately, there's no way to completely avoid having to occasionally schedule commercial electrical repair services. However, there are a few things you can do to help reduce the frequency of future issues, including scheduling regular maintenance and inspections. We also recommend avoiding overloading your circuits by plugging in too many appliances at once, regularly inspecting and replacing your electrical cords for fraying or other damage, and taking care to follow the manufacturer's guidelines for all appliances.
Are there any commercial electrical repair tasks I can handle on my own?
We strongly discourage clients from attempting any DIY repairs. Electricity is extremely dangerous, and it's easy to make a costly mistake if you're not properly trained.