Our electricians have a lot of experience with commercial electrical rewiring and other electrical services in Charlotte, NC.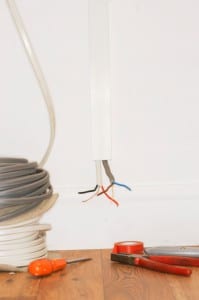 Commercial Electrical Rewiring in Charlotte – If you consider how much an office uses electricity, you can see how important it is to keeping a business functioning smoothly. Between charging stations, computers, lighting, and other equipment, your staff will have a hard time getting their work done without consistent electricity. If you work in an older building, chances are good that the wiring might need to be redone. Older wiring and electrical components tend to short out more often, leading to surges and other issues that can cause damage to electronics. At Lamm Electric, we offer commercial electrical rewiring to clients in Charlotte, North Carolina and many of the surrounding cities within a 20-mile radius.
Our electricians have a lot of experience with commercial electrical rewiring and other electrical services. We have been in business for more than two decades, and many of our customers come back for additional services because of our high-quality service and knowledgeable technicians. In addition to commercial electrical rewiring, our team also provides electrical remodeling services, adding or replacing lighting and fan outlets, and electrical repairs of fuses, breakers, and everything in between.
When you rely on our team at Lamm Electric for your commercial and residential electrical needs, you can feel confident in the skills that each of our team members has. Our technicians have at least 20 years of experience, and we know how to effectively diagnose and solve electrical problems. We have a high grade with the local Better Business Bureau and are also registered with Angie's List. Contact us today to receive an estimate for commercial electrical rewiring or any of our other services.
Commercial Rewiring FAQs
Here at Lamm Electric, we provide essential electrical services to businesses in and around the Charlotte area. One of the many electrical tasks we can assist you with is commercial electrical rewiring, and below you'll find answers to a few of the more common questions we get asked about this service. We hope you find this information useful, and we encourage you to reach out to us if you have further questions.
How do I tell if I need commercial electrical rewiring?
The most common signs that you need to rewire your building are frequent electrical issues like flickering lights, constantly tripping breakers, or outlets that don't work. You should also consider commercial electrical rewiring if you know your building is older and the system hasn't been updated, or if you've done renovation work or significantly added to the energy draw with large appliances.
Can I continue my usual operations while you work?
We do our best to plan commercial electrical rewiring around our client's schedules, but there may be occasions when we need to temporarily shut down an area for both our safety and the safety of any building occupants.
Will rewiring improve the energy efficiency of my building?
It's very likely that it will, since older wiring systems are less efficient and often waste energy. Commercial electrical rewiring with modern, energy-efficient options can save you money on your utility bills in the long run.
Will rewiring increase my property value?
Yes, having updated wiring is a big plus if you're trying to sell your property or have plans to do so in the future. Commercial electrical rewiring allows a buyer to be confident that the building will be able to perform well under the increased demands of modern technology, that it is safe, and that everything is up to code.