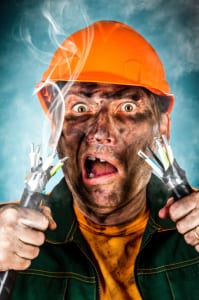 There are a number of ways that an unlicensed electrician can hurt you. But, above all, he is dangerous. If he doesn't hold a license, there's a reason for it. Either he was too lazy to make the effort to get one, or he didn't have the necessary experience, education and skills to be granted one. An electrician's license is something that's earned, not handed out.
Yes, the unlicensed guy is hurting the electrician who is making an honest living, and he's also hurting the economy, but most of all, he's hurting you, the consumer. The average homeowner doesn't understand what it means to hold a legitimate license and how important it is to their safety when it comes to electrical work.
An unlicensed 'electrician' not only doesn't have a license to perform the work he's quoting on, but typically, he doesn't carry insurance, either. So if something goes wrong, where does that leave you? You're on the hook for his mistake, and what do you think that's going to do to your insurance premium?
It might be very tempting to hire the guy who comes in with a price that's $1,000 cheaper than licensed electricians, but usually, it's just what it seems – too good to be true. He can come in with a lower quote because he's not pulling permits.
At Lamm Electric, every technician on our team has many years of experience working on a wide spectrum of residential and commercial systems in the Charlotte area of NC. For prompt, reliable service, give us a call.