We have experienced electrical contractors available in the Belmont area to help you with any of your electrical needs.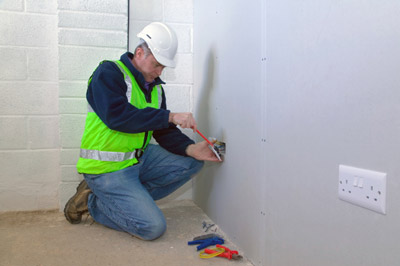 Electrical contractors aid in bringing light, power, and communications systems to buildings across the globe. In this role, an individual specializes in construction that relates to installation, design, and maintenance of all types of electrical systems. These projects could range from wiring to provide light to a single room up to installing every electrical wire that runs through a massive skyscraper. Whether the electrical contractor is working with low-voltage wiring (for lighting and other smaller-scale jobs) or high-voltage wiring, safety is a top concern at all times. Even low-voltage wires can be dangerous if installed incorrectly, so proper installation and maintenance are absolute musts for electrical contractors.
There are several different classifications for electrical contractors. Those who work on power lines are often referred to as "line" or "outside" contractors. When electricity flows from a power plant, it runs along lines and into facilities, homes, and other buildings. An outside contractor monitors and maintains those lines to ensure safety. Inside contractors work on the electrical systems within structures, and this can range from small apartments to huge commercial buildings. For new construction, electrical contractors aid electrical engineers in designing the layout of various components of the system. There are also electrical contractors who work on climate systems, wireless networks, telecommunications systems, and other low-voltage systems.
At Lamm Electric, we have experienced electrical contractors available in the Belmont, North Carolina area to help you with any of your electrical needs. Call us today to learn more about the services we provide.
---
At Lamm Electric, our electrical contractors proudly serve Charlotte, Belmont, Huntersville, Indian Trail, Matthews, Mint Hill, Harrisburg, and Mt. Holly, North Carolina.