The cost of hiring a licensed electrician in Huntersville, NC is far less than the alternative.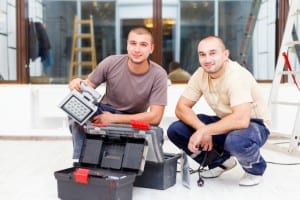 Licensed Electrician in Huntersville – Have you ever thought about having electrical work done by a handyman or some other unlicensed person? Sure, you will probably save a few bucks on the work because they don't have the overhead that a licensed electrician does, but there are a few other things they probably do not have that should scare you.
At Lamm Electric, we want you to understand why hiring an unlicensed electrician would be a mistake.
Insurance – A licensed electrician will have many types of insurance to protect his business, his employees and his customers. If one of the workers gets hurt on your property, or if the work is done incorrectly resulting in a fire or other damage, your liability is going too far exceed what you may have saved by hiring an unlicensed electrician. We always carry all types of coverage and are happy to produce documentation for you if requested.
Accountability – A licensed electrician who has been around for over 20 years values their standing in the community, and that desire makes them accountable for their work. They know that if one person in Huntersville, NC is unhappy with their work, word will get around. We always follow up with customers, so you can count on us to make sure you are 100% satisfied. If you have any issues, you will be able to locate us. The same cannot be said about the discount-rate unlicensed electricians.
Quality Work & Materials – Again, this speaks of wanting to maintain the respect of the community. If we were to use shoddy materials and hire inexperienced technicians, we wouldn't be in business for long. An unlicensed electrician grabs all the cheap work he can get and then moves on to another location full of unsuspecting customers.
When it comes right down to it, the cost of hiring a licensed electrician is far less than the alternative. You'll get reliability and peace of mind that the work was done safely and properly. You just can't put a price on that. As always, our prices are competitive and fair, and you are welcome to contact us for a free estimate on any of our electrical services in and around Huntersville, NC.
---
At Lamm Electric, our licensed electricians proudly serve Charlotte, Belmont, Huntersville, Indian Trail, Matthews, Mint Hill, Harrisburg, and Mt. Holly, North Carolina.