You don't need to turn anywhere else when you need a licensed electrician in Matthews, NC.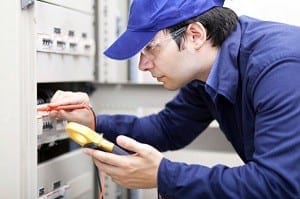 Licensed Electrician in Matthews – Whether you need help wiring a building site or are rewiring a home, it is important to have a licensed electrician come in to perform electrical work. You may be wondering why a licensed electrician is so important when it comes to handling electrical tasks. Our electricians at Lamm Electric have completed a specific number of hours within strict electrical work guidelines.
Because our licensed electricians have experienced working in a number of different settings, we can ensure that your job will be done efficiently, correctly, and safely.
High-Quality Workmanship – At Lamm Electric, our workmanship speaks for itself, and our expertise and experience keep our customers coming back to us for their next project.
Integrity in Our Work – We feel that integrity is critical to building relationships. If you have questions or concerns about your job site, how wiring works, or whether we have done the job you need, we will work with you to find solutions.
Customer Satisfaction – Whether you have a residential or commercial job, our goal is 100% customer satisfaction. You will see that you don't need to turn anywhere else when you need a licensed electrician in Matthews, NC.
At Lamm Electric, we've been serving you since 1993, and our reputation will tell you that we provide the quality workmanship and customer service you deserve. When you call us to hire a licensed electrician, you can expect friendly, affordable service that keeps you coming back to us every time. Contact us today to get started with your electrical project. We look forward to working with you!
---
At Lamm Electric, our licensed electricians proudly serve Charlotte, Belmont, Huntersville, Indian Trail, Matthews, Mint Hill, Harrisburg, and Mt. Holly, North Carolina.