When it comes to electrical issues in your Charlotte, NC home, it's important that they're looked at by a residential electrician as soon as possible.
Residential Electrician in Charlotte – You rely on the electricity flowing through your home in Charlotte, North Carolina to help you get through your daily tasks, which is why it's important to have an electrician on your side at all times to help you if you ever run into a problem. From small repairs to larger rewiring jobs, we're here to take care of all of your electrical needs. When it comes to electrical issues in your home, it's important that they're looked at by a residential electrician as soon as possible.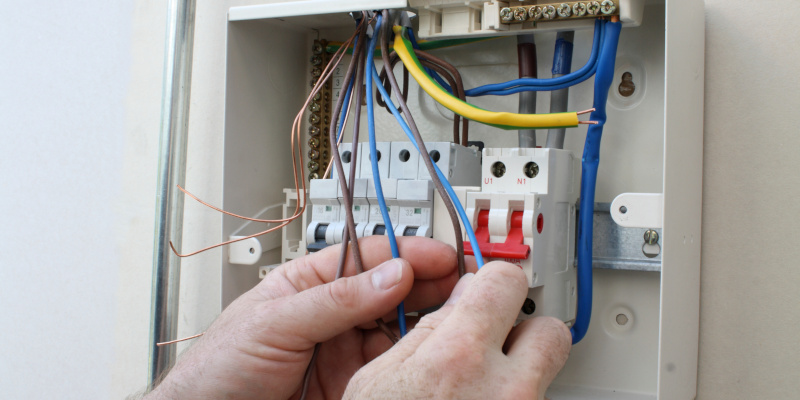 We strongly encourage you to give us a call to send a residential electrician over to your home if you run into any of the following situations:
The cords coming out of your outlets are a tangled mess and are connected to several different outlet strips throughout your home.
You notice that some lights in your home seem dimmer or brighter than others, even if they are in the same room.
Your lights dim or flicker every time you change the setting on your hair dryer or plug an appliance into one of the outlets in your kitchen.
It seems like your fuses blow out and your circuit breaker trips far too often.
Moisture or rust has started to accumulate around your home's service panel.
Locally owned business that cares about their customers.
"Matt Lamm provided same-day service. The electrician was great. He completed the repair, and the price was very fair. His is a locally owned business that cares about their customers."
★★★★★ J. Pike
You're in good hands with our licensed electricians.
Common Reasons to Call a Residential Electrician
It stands to reason that you would call a residential electrician if you had a circuit that wasn't working, if there's an outlet in your home that looks shorted out, or if you are experiencing some other type of electrical issue. However, you should know that there are plenty of other common reasons why you can give us a call at Lamm Electric to schedule an appointment with a residential electrician.
Upgrade System- If you have an older home that uses fuses, it is recommended that you have it upgraded to a circuit breaker style instead. This requires replacing the fuse box with a circuit breaker box and could also require some rewiring.
Lighting Installation- Most people will tell you they have at least one light fixture they are not in love with. If you have one you dislike because of how it looks or the illumination it provides, call us to have a new fixture installed that can transform the room.
Add Outlets- The use of extension cords and power strips isn't always the best idea from a safety standpoint, but can be easily rectified by installing additional outlets to handle the extra items or to put an outlet where it is the most useful. Additional wiring could also be needed for high power consumption projects, such as a home media room or home office.
When you turn to us at Lamm Electric for help with an electrical problem, a remodeling job, or a rewiring job, you can rest assured that you are in good hands. Each one of our electricians has at least 20 years of experience and is 100% dedicated to your satisfaction. Don't hesitate to give us a call the next time you need a residential electrician in the Charlotte area.
For more information on our reliable and affordable residential electrical services, contact us today!
FAQs About Working with a Residential Electrician
Our team at Lamm Electric has extensive experience in providing residential electrical services. Over the years, we have received many questions about our residential electricians and what they do, so we have put together this article to answer some of our most frequent inquiries on the subject.
When do I need to call a residential electrician?
Electrical problems often show themselves in similar ways—for example, you may notice discoloration on your outlets or switch plates, your lights may flicker or dim, or your circuits may start to trip frequently. If you notice any of these issues in your home, we encourage you to call our team right away. Our residential electricians have extensive experience in this field, and you can count on us to determine exactly what is causing those issues and to provide an effective solution.
What qualities should I look for in a residential electrician?
When searching for a residential electrician to work on your home, you should always look for someone with plenty of experience. Our team has been working in the electrical industry for many years, so we have had plenty of time to hone our skills. In addition, we encourage you to check out each candidate's reviews before you decide who to hire. You should also ask for a list of client references, as hearing about past clients' experiences is often the best way to determine which electrician is best for your needs.
Can I do electrical work myself?
We strongly advise you to refrain from attempting any DIY electrical repairs and instead encourage you to call an experienced residential electrician to do the work for you. Not only is it safer to hire a licensed electrician from the start, but doing so will also get you faster and better results—our team knows how to identify the source of the problem right away, and we'll work efficiently to get your system back in good working order.
Locally owned business that cares about their customers.
"Matt Lamm provided same-day service. The electrician was great. He completed the repair, and the price was very fair. His is a locally owned business that cares about their customers."
★★★★★ J. Pike
Similar Services We Offer: