Electrical Installation, Charlotte, NC
Electrical installation is one of those things that should always be left to a licensed professional in Charlotte, NC.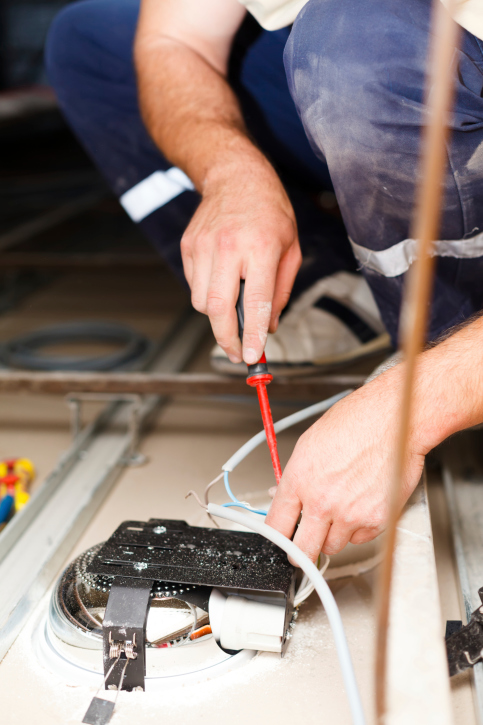 Electrical Installation in Charlotte – Thanks to the Internet and social media, it is very easy to find DIY resources, but every responsible do-it-yourselfer knows that when it comes to something potentially dangerous, an expert should always be called. Electrical installation is one of those things that should always be left to a licensed professional.
Some important electrical installation tasks include:
•  Electric appliances
•  Cables (internet, television, game consoles, etc.)
•  Switchboards
•  Lighting
•  Electrical systems (alarm systems, heating/cooling, etc.)
•  Breaker boxes
When a home or business is built, the first electrical installation will be completed. During this time, everything will be set up so it can be wired into lights, switches, and electrical sockets later on. When homes and buildings age, wires age, too. Some wires will be replaced, and some wires will be rewired to create areas for new cables, appliances, or lights. If you do a kitchen remodel and decide to add track lighting above the kitchen island, you will need to have a professional do an electrical installation into that specific area.
Common Electrical Installation Needs When Renovating
At Lamm Electric, we help homeowners in the Charlotte, North Carolina area who are doing home renovation projects and find they need a professional to handle the electrical installation component of the project. If you are an avid DIYer, you might be fine with the other aspects, but the risk is too high to do the electrical part yourself. Here are a few of the most common electrical installation needs that we assist with for renovation projects.
Dedicated Circuits- If you are adding appliances during your renovation, it isn't a bad idea to consider a dedicated circuit for them. For example, if you are putting a second refrigerator or a large freezer in a room that you enlarged for that purpose, we could put in a separate circuit to handle the load.
Home Office- Converting a bedroom into a home office is a common renovation these days, but you should know that if you have several pieces of office equipment, the outlets and wiring for that room are likely inadequate. An electrical installation to put in more outlets and perhaps a dedicated line avoids the need for multiple power strips, which aren't as safe for long-term use.
Surge Protection- Installation of a whole-house surge protection system is a wise idea for any home, but especially if your renovation has included high-end appliances and/or electronics that are more sensitive to power surges and cannot be protected with surge protector power strips.
Lighting- When you are moving things around during a renovation, you might find that the location of the existing lighting doesn't work anymore. We can install your lighting where it needs to be and upgrade to energy-efficient options that will save you money.
Our electricians are professional, thorough, and experienced.
Outlet problems? We can help!
If you are in the Charlotte, North Carolina area and are in need of electrical installation or any other electrical services, our team at Lamm Electric is here to help you. Our licensed electricians have over 20 years of experience and promise to leave you 100% satisfied. We even offer emergency electrical services because we know that bad things can happen at any hour of the day. Whether you own a home or business, we are ready to help you with your electrical needs!
---
At Lamm Electric, we offer electrical installation services in Charlotte, Belmont, Huntersville, Indian Trail, Matthews, Mint Hill, Harrisburg, and Mt. Holly, North Carolina.
Completed the job in a very timely fashion.
"Electricians showed up on time to the minute. They completed the job in a very timely fashion and did a great job cleaning up after themselves."
★★★★★ Ryan T.
Similar Services We Offer: