If you are located in or around Charlotte, NC, our team at Lamm Electric is here to help you with your electrical rewiring needs.
Electrical Rewiring in Charlotte – When you buy a home, or if you have lived in the same home for many years, there are bound to be some electrical aspects that you wish to change or upgrade. Electrical rewiring is needed for many different cases, whether rewiring new lighting or replacing and updating old wiring. If you are located in or around Charlotte, North Carolina, our team at Lamm Electric is here to help you with your electrical rewiring needs.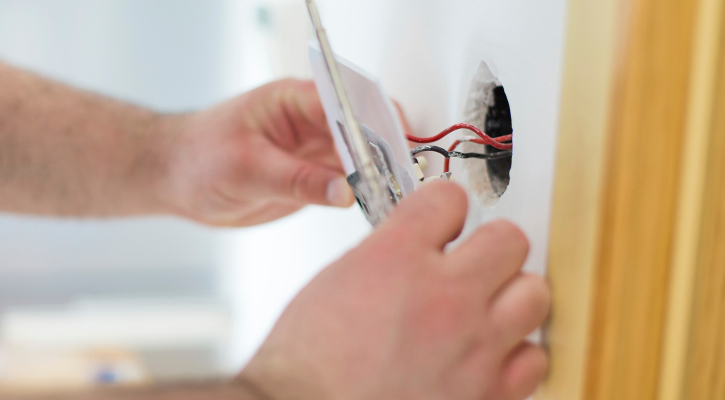 Electrical rewiring can be overwhelming and look like it's causing more harm than good. Since the wires are located in the walls of your home, holes will need to be cut out in order to reach the wiring. For this reason, it is recommended that you consider electrical rewiring when you are doing some sort of construction in your home like a kitchen remodel or room addition.
Our family-owned and operated business has been serving the Charlotte area since 1993.
3 Shocking Reasons Electrical Rewiring Should Be Left to Professionals.
If you have issues with your home's wiring, you might be thinking of doing a little bit of an upgrade. Older homes simply weren't built to accommodate today's larger appliances and electrical needs, and upgrades in appliances can leave many homeowners realizing they need upgrades in electrical wiring as well. If you are thinking of handling your electrical rewiring, you might be in for some shocking surprises! Here are a few reasons why you should leave your electrical rewiring to professionals.
It's Dangerous! Electricians are trained and highly skilled. In many areas, electricians are required to work as a type of apprentice before being allowed to strike out on their own. When you don't use a qualified and professional electrician like those we have at Lamm Electric, you run the risk of painful, and even deadly, shocks.
Legality Issues. Electrical work is an important part of your property. If done improperly without the help of a professional, you could find yourself in legal trouble and still have problems with your electricity.
Insurance Problems. If your insurance discovers that your electricity was completed by an unlicensed professional, you will discover that they might choose to no longer insure you! In instances like a fire that might have occurred because of faulty electrical work, you could be on the hook for the cost of repairs should they deny your claim.
If you have questions about electrical wiring, we here at Lamm Electric would like to help you. Please give us a call today to learn more!
Another thing to consider when rewiring your home is planning for the future. You will not want to cut into your walls again anytime soon. Think about future appliance purchases, or areas in which you may wish to have electrical sockets in the future. Even just a little planning ahead can save you time and money.
Once your rewiring is complete, we will not leave your home looking like Swiss cheese! We will patch up any holes that we have created and make sure to clean up any messes that we have caused. We promise that you will be 100% satisfied with our services and our friendly professionals. We are proud members of the Better Business Bureau and Angie's List. Call us today for your residential or commercial electrical rewiring needs.
---
At Lamm Electric, we offer electrical rewiring services in Charlotte, Belmont, Huntersville, Indian Trail, Matthews, Mint Hill, Harrisburg, and Mt. Holly, North Carolina.
Do you need to call us for electrical rewiring work?
Similar Services We Offer: