Too few outlets for all the electronics in your Indian Trail home? Call us for electrical installation that will resolve that problem.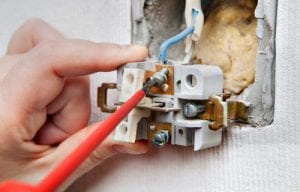 No matter how carefully you plan out a newly constructed home, at some point, you will likely find that you need a bit more electrical installation. An older home is even more likely to need additional work, due to the heavier use of electronics in today's households. This is even more likely as many people set up home offices to telecommute. If you are finding that fuses or breakers keep getting tripped, it is likely that you have too much of a load on a particular line and need electrical installation to add another circuit. At Lamm Electric, we're here for you to make your Indian Trail, North Carolina home's electrical system function the way you need it to.
In addition to the electrical installation of new wiring, we can also take care of putting in outlets where they are most convenient and necessary. The use of extension cords and power strips is not recommended for long-term use. It is better if we put in additional outlets that are exactly where you need them to be. This is as important for temporary situations as it is more permanent ones. Every year, homes are lost to fire from holiday lighting. Let us keep your family safe by putting in the wiring and outlets that can safely handle the extra load that time of year.
If you have questions about electrical installation for more outlets, more electronics, or other situations, don't hesitate to give us a call. Each of our technicians has at least 20 years of experience, so we are confident your needs will be taken care of promptly and efficiently.
---
At Lamm Electric, we offer electrical installation services in Charlotte, Belmont, Huntersville, Indian Trail, Matthews, Mint Hill, Harrisburg, and Mt. Holly, North Carolina.