If you find that you continually trip circuit breakers or blow fuses, we can help you with various electrical installation services in Matthews, NC.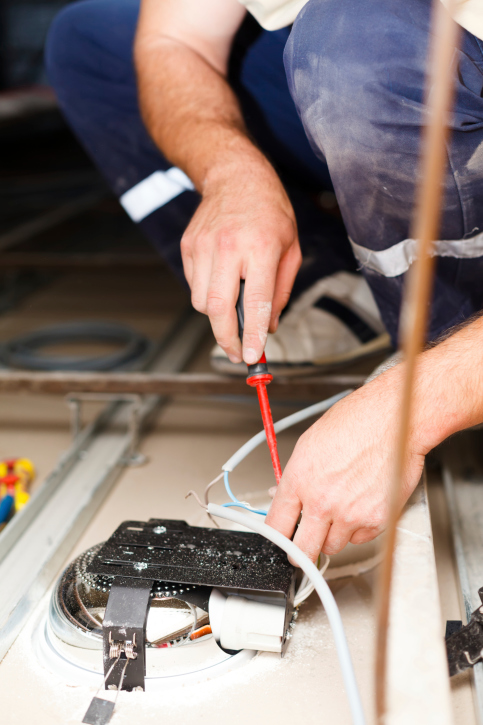 Electrical Installation in Matthews – An insufficient number of outlets is a common problem with homes in the Matthews, NC area that were built prior to the explosion of electronics that most families now use. If you find that you continually trip circuit breakers (or blow fuses if you have an older system), our team at Lamm Electric can help you with various electrical installation services. If you are using extension cords and power strips, you may be overtaxing your electrical system, which can have disastrous results. Let us help you update your home to meet your needs safely.
The electrical installation of extra outlets is the best way to avoid extension cords and overtaxing one particular outlet. However, if there are already too many outlets on a particular circuit, your electrical installation will need to be more involved. In this situation, we set up a new circuit with wiring extending directly from your breaker panel instead of adding onto an existing one.
If you do have the old fuse box technology, we advise the electrical installation of modern circuit breakers. At that same time, depending on the type and condition of your home's existing wiring, we may recommend rewiring the home.
If you have questions about these or any other type of electrical installation, give us a call. Our family-owned company has been providing top-quality electrical installation services since 1993 at fair and competitive rates. If you are concerned that your home's electrical system is insufficient to handle the various electronics you now have, give us a call. We'll be glad to assess the situation and give you our recommendations.
---
Here at Lamm Electric, we offer professional and affordable electrical installation for customers in Matthews, Mint Hill, Charlotte, Belmont, Huntersville, Indian Trail and Sherrills Ford, North Carolina!