No matter your problem, our electricians can handle your Matthews lighting rewiring job with ease.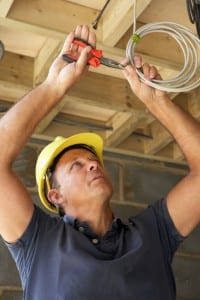 Lighting Rewiring in Matthews – When you flip a light switch or turn on a lamp in your home or business, you expect that the light will turn on. Most of the time, this is the case, but every now and then, your lights won't illuminate. This problem could have several causes. First, maybe the light bulb has burned out, which is an easy fix. Second, there could be something wrong with the actual fixture. Sometimes light fixtures go bad or lamps stop working, and repair or replacement is the best option. The third problem you could be facing is an issue with the wiring.
While two of the three potential issues are fairly easy to fix on your own, the third is best left to a professional. At Lamm Electric, we offer lighting rewiring services to customers in and near Matthews, North Carolina. Whether you have an older home or office that has outdated wiring, or have faulty wiring that was never installed properly, our electricians can handle your lighting rewiring services with ease. We will also arrive on time and ready to get right to work.
You may even be looking into lighting rewiring to improve the energy efficiency within your residential or commercial building. With the massive changes in energy-efficient lighting options and other components, it is easier than ever to reduce your usage and lower your utility bills each month. No matter what type of service you need, our team is available to handle lighting rewiring. Contact us today for an estimate on your specific project.
---
At Lamm Electric, we offer lighting rewiring services in Charlotte, Belmont, Huntersville, Indian Trail, Matthews, Mint Hill, Harrisburg, and Mt. Holly, North Carolina.