Sitting in the dark? We can help!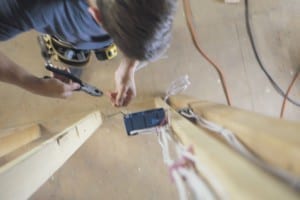 There are certain electrical issues that should be addressed promptly. It doesn't matter the hour or the day. When you need an emergency electrician in Mt. Holly, North Carolina, give us a call at Lamm Electric. Each technician has at least 20 years of experience to quickly diagnose and resolve your electrical issue.
Some of the problems you should call us about right away are a complete power outage that is not due to the power company, seeing sparks, an odor like burning plastic, or flickering lights. Any of these can be a symptom of a dangerous electrical problem. It is best to shut off power at the main box and exit the home or building while you wait for your emergency electrician, as there is the potential for an electrical fire. If you do suspect a fire in the walls or attic, you should also call the fire department.
We use the same diligence when serving as your emergency electrician as we do for regular electrical work. We don't cut corners or perform work that doesn't adhere to local and state building codes. Even though our work is high-quality, you'll find our prices to be fair and competitive. Our goal is to establish a relationship with each customer to serve their needs now and in the future. We will work hard to earn your trust and provide you with the best possible service.
If you need an emergency electrician now, give us a call. Otherwise, keep our number handy in case you need us down the road. It is never a fun experience to need help fast and forget who you should call. The situation is stressful enough without scrambling to find a phone book in the dark or wishing you had power to do an online search. Feel free to contact us with any questions you may have.
---
At Lamm Electric, our emergency electrician proudly serve Charlotte, Belmont, Huntersville, Indian Trail, Matthews, Mint Hill, Harrisburg, and Mt. Holly, North Carolina.