Electrical Technician, Charlotte, NC
Every electrical technician on our team has at least 20 years of experience.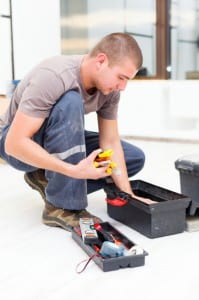 We've come to depend on reliable and safe electrical service in our homes and places of business. When that reality ceases to exist, we're often at a loss for how to get ourselves back to our normal lives. Whether your particular situation is a building-wide problem with loss of power or the smallest of fluctuations in power throughout a circuit, an electrical technician from our team at Lamm Electric can help solve your problem, as well as diagnose and prevent future issues.
Having an electrical technician on your job is more than simply having someone trained to diagnose active and potential issues with the wiring and electrical systems of your Charlotte, North Carolina business or home. We are also equipped to make sure you have the appropriate amount of power for the task at hand. If you add more equipment to your business or set up a home office or media room, you need to know you have what it takes to power everything safely without overwhelming a circuit. If you have made changes at your home or business, call us to inspect your electrical system to see if modifications are necessary. Our electrical technician will test circuits and help you plan for specific electrical demands.
In addition to making upgrades and handling repairs, you can also call us when you would like an electrical technician to check things out. If you are feeling anxious because your home is older and want to know if the electrical system is still in good shape, we'll be happy to arrange an inspection for you. It is wise to do this because wiring does not last indefinitely and rewiring does need to be done sometimes. Not only can older wiring become damaged and dangerous, but you could also have an older system that is not in accordance with building codes because it is known to be problematic. If you want peace of mind that you don't have an unsafe condition, don't hesitate to contact us to find out for certain one way or the other.
Put your electrical project into the hands of a licensed electrician you can trust by calling us at Lamm Electric.
At Lamm Electric, we are a family owned and operated business that's been an important part of the community since 1993. Every electrical technician on our team has years of experience in a wide variety of commercial and residential applications. From the smallest residential job to the largest commercial or industrial needs, we work with your schedule to make sure your electrical system is working within safe parameters. Our technicians have the best workmanship in the business, so you can depend on getting excellent service on every visit. Every electrical technician in our employ has at least 20 years of experience and will make sure you are 100% satisfied with the work before leaving.
If you have any questions or concerns about the electrical system at your home or business, feel free to give us a call. There are a lot of companies out there that don't call back, but we do! We are confident you'll appreciate our dedication to customer service and being the trustworthy company that you can feel comfortable having at your property. Call today to learn more.
---
At Lamm Electric, our electrical technicians proudly serve Charlotte, Belmont, Huntersville, Indian Trail, Matthews, Mint Hill, Harrisburg, and Mt. Holly, North Carolina.