Unless you have many years of experience in electrical repairs, attempting lighting repair by yourself can cause even more damage to your Charlotte, NC home or business.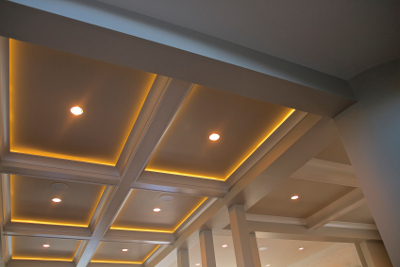 Lighting Repair in Charlotte – When a lighting system or fixture fails to work when or how you need it to, one of the most common modern conveniences suddenly turns to a liability. Lighting repair is more than simply a connection to a circuit or a switch. The reasons for a failure in lighting can be as numerous as the type of fixtures you might have in your home or business.
Isolating the original reason for lighting failure is the first and most important factor of lighting repair. Whether the fault comes from a bulb, a fixture, a wire, a circuit, or some other issue, it's necessary to find the reason for the fault in order to not only repair it, but also to prevent future faults of a similar type in the rest of the building's lighting.
Unless you have many years of experience in electrical repairs, attempting lighting repair by yourself can cause even more damage to the building. This is important not only in residential repairs but in all manner of commercial and industrial applications, as well. Our professional electricians at Lamm Electric have experience across all types of lighting repair and lighting systems. This includes large industrial and commercial applications, as well as smaller residential lighting requirements.
With over twenty years in business in the Charlotte, NC area, we remain family owned and operated. Our years of experience and high-quality workmanship allow us to invest in our community, with results that stand the test of time. This allows our customers to call us first when they need assistance on other projects and to recommend us to their friends and colleagues. We look forward to working with you!
High-Quality Electrical Services
FAQs About Lighting Repair
When your home or business simply isn't as bright as it used to be, it might be time to look into lighting repair services. Instead of simply replacing the entire lighting fixture or changing the light bulbs, it might be in your best interest to call one of our professional electricians at Lamm Electric! Below, our experts have responded to a few common questions we get about our lighting repair services.
What are some signs that my light fixtures need to be repaired?
A few common complaints can include flickering lights, rust around light bulbs, or the light simply refusing to turn on. In more serious cases, faulty wiring can cause electric shocks or other problems when trying to use the light, so it's best to have a professional deal with these.
Can I repair a broken light on my own?
Sometimes, a light fixture that stops working might be due to a loose bulb or another simple problem that can be repaired by anyone. However, if you've tried tightening the bulbs, replaced the light bulbs with new ones, and checked your circuit breaker without any luck, it's probably time to call in a professional electrician.
How do I know if I need to get repair services or replace my lights altogether?
If you have older light fixtures that don't work reliably, choosing new lights altogether is likely the most cost-effective option. However, if your lights are relatively new and have only recently started acting up, an electrician can give you the repairs and recommendations to help you keep your space bright.