Training and experience are what makes our electrical technicians head and shoulders above the competition in Indian Trail.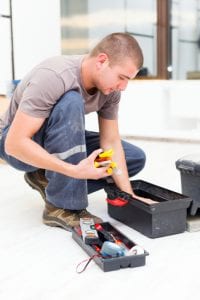 It is not uncommon for an electrical technician to have learned their trade from a parent or someone else in the family. It is a beautiful thing to follow your father's footsteps and gain their many years of knowledge in the process. At Lamm Electric, we took that a step further. Our owner, Matt Lamm, did indeed learn a lot from his father, as well as two uncles who were also in the electrical trade. But, he took that a step further and attended a four-year apprentice program in order to fine-tune his education.
This step gives our company the added benefit of knowing the old ways and the new ones. We are as comfortable working on older fuse box systems as we are the many specialty electrical demands of today's world. Not only did Matt learn a lot as an apprentice, but he also won the 1991 North Carolina Electrical Apprenticeship Contest. When he began Lamm Electric in 1993, he had a firm foundation of hands-on electrical technician training.
It isn't just Matt's background that makes this company so great. It is also the integrity he learned from his father and uncles. Getting prompt, reliable service is somewhat a dying breed in the Indian Trail, North Carolina area, but we keep it alive and well. We always return calls and dispatch an electrical technician with 20+ years of experience to take care of your electrical need. We don't cut corners by using substandard materials either. We treat your home like our own, and only the best will do.
We welcome you to call us with any questions you may have. You will quickly realize why we are the electrical technician of choice for homeowners and business people in the Indian Trail area.
---
At Lamm Electric, our electrical technicians proudly serve Charlotte, Belmont, Huntersville, Indian Trail, Matthews, Mint Hill, Harrisburg, and Mt. Holly, North Carolina.