We have been offering emergency electrician services to the Charlotte, NC area for over 20 years.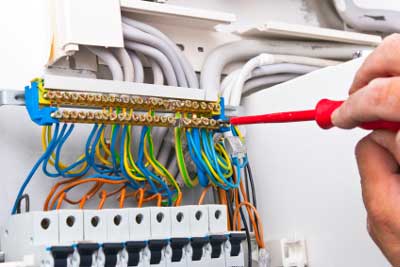 Emergency Electrician in Charlotte – You may not realize how much you rely on electricity, but it does so much more than just provide power for lighting in your home or business. When the power does go out or something else is wrong with the electricity, you will notice that your computer, TV, refrigerator, oven, and microwave won't work right either. Additionally, when your office doesn't have working electricity, you will lose a lot of productivity from staff members who can't access computers or other electronic devices.
While power outages are handled by your local power company, if there is something wrong with the electrical wiring or fuse boxes at your location, the best option is to call an emergency electrician at Lamm Electric. We have been offering emergency electrician services to the Charlotte, North Carolina area for over 20 years.
When an emergency electrician from Lamm Electric comes to your property to fix something, he or she will likely have to turn off the power for a time. However, you don't need to fear an electrical surge when it gets turned back on. Our team can make sure that your electronics and other devices are not damaged.
In addition to offering emergency electrician services, our team can provide a variety of resources. We can assist in new construction, electrical repairs, electrical rewiring, remodeling projects, and installing new outlets or lighting fixtures. Our team also specializes in commercial electrical services, so if you are a business owner, feel free to contact us for all of your electrical needs. Our team works diligently to make sure that we accommodate your needs and your schedule.
Licensed, Professional, and 24/7 Availability at Lamm Electric
FAQs About Hiring an Emergency Electrician
Many people are hesitant to call an emergency electrician because it's not always obvious if a situation can be classified as an emergency. At Lamm Electric, our professional electricians have responded to some frequently asked questions about calling for emergency electrical services to help you determine if your situation can wait or if you need urgent assistance.
What are some signs of an electrical emergency?
Some clear signs that your home needs immediate electrical repair include buzzing noises from your circuit breaker, warm or hot power outlets, a burning smell coming from an outlet, and a sudden power outage that only impacts your home. However, if you rely on certain electrical equipment, such as a stairlift, to get around your home, this also warrants a call to an emergency electrician. Being unable to safely get around or leave your own house is a major personal risk, so you should call for help as soon as possible.
What should I do before the emergency electrician arrives?
After you call an electrician, you might be wondering what you should do in the meantime. To help the electrician do their job more efficiently once they arrive, you can help by shutting off the power, unplugging appliances, and decluttering the space around the area where the electrician will be working. If there was a more serious electrical emergency, such as an electrical fire or an injury caused by an electric shock, you should call 911 before reaching out to an emergency electrician.