Keep your Indian Trail property in the best light with our lighting repair services.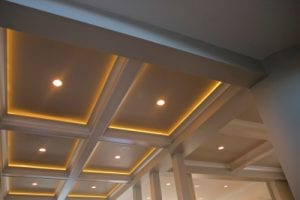 There is nothing more frustrating than not having the appropriate amount of light where you need it. Having lighting that just doesn't cut it for you is completely correctable with our lighting repair services at Lamm Electric. We'll help you with getting light in the right places throughout your Indian Trail, North Carolina home.
Lighting repair can mean resolving a problem with a faulty fixture or replacing the wrong type of lighting with something that will do the job better. In other cases, it can be getting the wiring worked on so each item on the circuit gets the power it needs. Our technicians have 20+ years of experience with lighting repair and are pros at isolating problems and offering solutions that work.
We provide lighting repair for both residential and commercial properties, including larger industrial facilities. Whether you have trouble with one light or an entire department, room or area, we can quickly diagnose the problem and get the lighting repair done efficiently and effectively.
At Lamm Electric, we are a family-owned company that is backed by a number of electricians with professional training. Matt began the company in 1993 after completing a four-year electrical apprentice program that expanded on what he picked up from his father and two uncles. Our goal is always to build a relationship with each customer, so you can expect a long and beneficial experience if you make Lamm Electric the lighting repair company you count on. Great service at competitive rates – what more could you want?
---
At Lamm Electric, we offer lighting repair services in Charlotte, Belmont, Huntersville,  Indian Trail, Matthews, Mint Hill, Harrisburg, and Mt. Holly, North Carolina.