Our team has the right experience to handle any commercial fuse box rewiring project, big or small, for your business.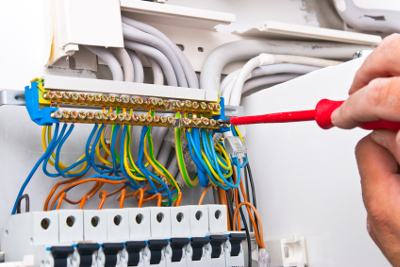 The fuse box is the component of your electrical system that is responsible for controlling and distributing the flow of energy throughout your business' facilities. This is clearly an important role, so it's only natural to want to keep your fuse box in good repair. While the wiring in your fuse box can typically stand the test of time, there will come a point in its lifespan when the wires become weak and compromise its efficiency and safety. When your business' fuse box reaches this point, you can reach out to our team at Lamm Electric for commercial fuse box rewiring services to restore your system to peak condition.
When it comes to improvement projects for your facilities, commercial fuse box rewiring is a task that is always best left to professionals. Our licensed electrical contractors at Lamm Electric have the necessary knowledge of electrical principles to successfully implement changes to your system and the right training and equipment to safely work with your wiring. With our more than 20 years of experience in the industry, you can count on our experts to complete the job correctly and in full compliance with local building codes so that you can feel confident in your facility's efficiency and safety.
Our team at Lamm Electric is proud to serve the Mt. Holly, North Carolina, community. We want to help you make your business the best it can be. If you are in need of commercial fuse box rewiring services, call our team today to learn more about how we can help.
---
At Lamm Electric, we offer commercial fuse box rewiring services in Charlotte, Belmont, Huntersville, Indian Trail, Matthews, Mint Hill, Harrisburg, and Mt. Holly, North Carolina.