We are here for you when an electrical issue requires a commercial emergency electrician.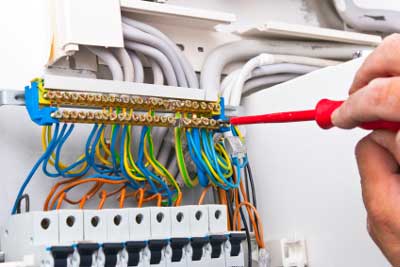 If you are having a problem with the power at your Mt. Holly, North Carolina business, you don't have time to wait around for someone to help. You need a reliable commercial emergency electrician that has the expertise to quickly diagnose and resolve the problem. That is what you can rely on when you call us at Lamm Electric. We have been serving the electrical needs of this community since 1993 and have earned a stellar reputation for quality and professionalism.
All of our technicians have a minimum of 20 years of experience in the electrical industry, so you can be confident they know what they are doing and can get you up and running in no time. Our service trucks are well stocked, so that most repairs can take place with one service visit. Our experience extends to both fuse box and breaker box electrical systems and your commercial emergency electrician can handle anything from simple repairs to rewiring and upgrading projects.
A common problem that results in needing a commercial emergency electrician is having a power load that is too high for the circuit or system. If you have recently added new equipment, electronics, or appliances, the solution may be as simple as adding circuits or upgrading the wiring. In more advanced situations, you may need significant upgrades. You can always be confident we'll provide you with the best possible and cost-efficient solution for your situation.
If you need a commercial emergency electrician or you would like to schedule an appointment to have your electrical system inspected as a proactive measure, don't hesitate to contact us.
---
At Lamm Electric, our commercial emergency electricians proudly serve Charlotte, Belmont, Huntersville, Indian Trail, Matthews, Mint Hill, Harrisburg, and Mt. Holly, North Carolina.