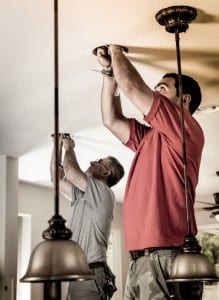 Does your home seem dim or dark? Do you have rooms that don't get a large amount of natural lighting? Is there an area of your home that needs more light for projects? If so, you should consider having some new lighting installation done to light up your home.
At Lamm Electric, new lighting installation is one of our specialties. Whether you are replacing outdated lighting fixtures, upgrading your electrical system, or wanting to add additional light to a room, we are your go-to company. Each of our trained electricians has more than 20 years experience doing electrical installations and repairs, and we are ready to help you with your project no matter how big or small.
Adding new lighting to a room can change its look and feel without major remodeling costs. Adding sconce lights to walls, changing your fluorescent lighting to recessed lighting, adding a ceiling fan, or just upgrading and updating your outdated lighting fixtures can be a large project that requires a trained professional.
We understand that when you want to add lighting to a room, you don't want wires strung all over the place, and you certainly want the job done right the first time. Our experience helps us to quickly evaluate and estimate your project and complete the work in as little time as possible.
When you are ready for new lighting installation to lighten up your home, give us a call and let us help you with your lighting needs. Remember, there isn't a job too large or small for our team!