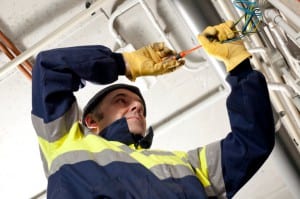 George Carlin said, "Electricity is really just organized lightning." And you know what they say about playing with lightning . . . or is that fire? Either way, you probably don't want to be messing around with something that carries such a powerful punch. When it comes to handyman jobs you can tackle yourself, your honey-do list might be better off staying at butcher, baker and candlestick maker, and leaving electrician to the big boys.
Consider using some of our suggestions and checklists for hiring an electrician to take on your job. One of the first things on these lists is whether the person you are hiring has a license– that goes for you, too! Observing someone else do electrical work can seem easy enough, but the truth is, that license means they know EXACTLY what to do, and not just to get the job done. One of the main concerns a licensed electrician can relieve is the question of safety. Every year, electrical fires start because of improperly worked electrical systems in homes or businesses, not just costing you money, but also causing bodily harm or injury.
Licensed electricians spend thousands of hours doing things the right way. They have put in the time to understand the codes that are put in place to meet necessary safety parameters. They understand the "whys" or "why nots" behind the way things are done, on top of being able to complete the job to the utmost level of satisfaction.
At Lamm Electric, we have been providing Charlotte and the surrounding areas with professional electrical services since 1993. Safety is a priority for us, as is high-quality work. We believe our customers should be 100% satisfied with the service we have provided. If you need an electrician in Charlotte, don't attempt to do the job yourself or hire someone without the license to back up their services. Look instead to Lamm Electric to find an electrician you can count on.