We have electricians who can assist with any electrical needs you might have in Huntersville, NC.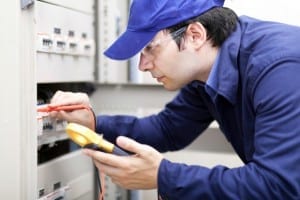 Electrician in Huntersville – Electricians have a wide variety of job duties, such as designing, troubleshooting, installing, and maintaining electrical wires. An electrician can work on a construction site, at a person's home, or at a commercial or industrial building. Some electricians also work on machinery or equipment that uses electricity and needs repairs in the wiring. There are several categories of electricians: inside wiremen, outside linemen, service electricians, and construction electricians. Within each category, electricians perform important work that allows electricity to flow through a building or piece of equipment.
At Lamm Electric, we have licensed electricians who can assist with any electrical needs you might have. Whether your commercial office building is having an issue with the wiring or your home needs new fuse boxes, our team of professionals can get the job done right. We are a family-owned company, and we have been serving the residents of Huntersville, North Carolina and surrounding areas for more than two decades. Our focus is on providing excellent service while maintaining a high level of integrity and quality in every job we do.
Something that sets us apart from other companies is that we offer emergency service. In addition, every electrician who works on our team has at least 20 years of experience in the industry and can handle a job of just about any size. When you schedule our staff to work on your project, we will arrive on time and ready to work. Contact us today if you need an electrician in the Huntersville area, and we can send someone to your property.
---
At Lamm Electric, our electricians proudly serve Charlotte, Belmont , Huntersville, Indian Trail, Matthews,, Huntersville, Mint Hill, Harrisburg, and Mt. Holly, North Carolina.