Fuse box rewiring in Huntersville, NC should always be done by a trained and licensed professional.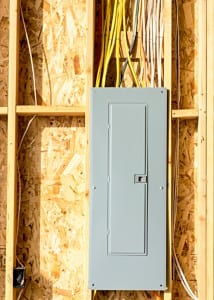 Fuse Box Rewiring in Huntersville – There are few things more challenging than rewiring a portion or the entirety of your home or business. The most important aspect of this is fuse box rewiring, which determines the loads that can be placed on the various circuits. Careful consideration of what devices and appliances use which circuits is essential to not only abiding by local building codes, but also ensuring your safety; the safety and proper functioning of your equipment, devices, and appliances; and the lifespan of your building.
Fuse box rewiring should always be done by a trained and licensed professional. The currents involved, the calculations involved in proper use of electrical circuits, and connecting the fuse box to your home or business in addition to the power grid require specific knowledge, tools, and safety in order to give your home or business an electrical system that works well for many years. Fuse box rewiring can also help with energy efficiency and better awareness of how to make the best use of the building.
Contact us today for more information on our reliable and affordable fuse box rewiring services in Huntersville, NC!
---
At Lamm Electric, we offer fuse box rewiring services in Charlotte, Belmont, Huntersville, Indian Trail, Matthews, Mint Hill, Harrisburg, and Mt. Holly, North Carolina.