If your current breaker box isn't up for the task, call us for breaker box installation for your Mint Hill home or business.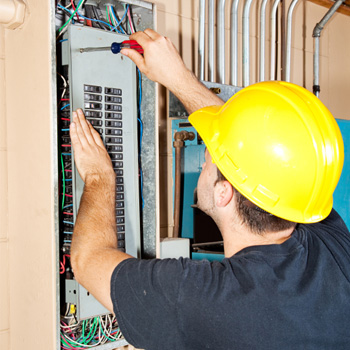 Are you remodeling your home in the Mint Hill, North Carolina area and will need more electrical circuits, but your current breaker box doesn't have any more space? Or perhaps you just have so many more electronics now, such as more TVs and computers, and need more circuits to handle them. At Lamm Electric, our technicians have at least 20 years of experience with breaker box installation, so we can take care of your current electrical needs, as well as have you good to go for future additions. There are two ways this can be accomplished – adding a secondary box or replacing the current box with a larger one.
There are a few signs that you may need more circuits for your home; for example, if your recreation room goes dark in the middle of a game or you experience outages regularly because those nasty electrical goblins have flipped the breaker again. This is an indication that there is too much load on your wiring. Our experts will find and resolve the mystery and install new wiring, circuits, or even perform breaker box installation if needed.
If you have an older home, it may be possible that your current breaker box needs to be replaced. Our technician will look for signs of short-circuiting and burning, which are dangerous situations that can lead to a fire in your home. If this is the case, you will need new breaker box installation, as this condition is not something that can be repaired any other way.
Building a new home is another time you'll need breaker box installation. We will work with your home construction contractor to ensure the right size box is installed for the demands of a modern home and meets any specific needs you may have, such as outfitting a home office or a high-tech game room.
Count on us for prompt, reliable service for breaker box installation or any other electrical service you may need, both for your home and your business.
---
At Lamm Electric, we offer breaker box installation services in Charlotte, Belmont, Huntersville, Indian Trail, Matthews, Mint Hill, Harrisburg, and Mt. Holly, North Carolina.