Call us today for breaker box installation that can be done in one day in Indian Trail.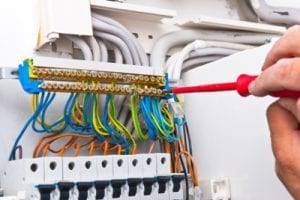 If you have an older home, you may need breaker box installation. This is true whether you have an old, outdated fuse system or just because the current box is showing signs of deterioration. When a breaker box gets older, many of the connections become weaker, which can present a fire hazard. Fuse systems are unreliable, and it can be downright annoying to go on a search for new fuses, as they are not carried at as many places as they used to be. If you need breaker box installation for either these reasons or for new construction, give us a call at Lamm Electric. We will coordinate with your power company to get it all switched out with the least inconvenience to you.
For the most part, breaker box installation can be done in just a few hours. During that time, you will be without power in your home, so we advise that you make accommodations for that. You shouldn't experience a problem with your refrigerator or freezer as long as you keep them closed. More sensitive electronics should be unplugged. If you have something medically necessary, you need to arrange for a generator or other power source during the transition. We are more than happy to work out a schedule that gives you the time you need to make whatever arrangements are necessary.
If you have questions about breaker box installation or any of our electrical services, feel free to give us a call. We aim to help you have all the power you need for your Indian Trail, North Carolina home and for the electrical system to be safe and convenient.
---
At Lamm Electric, we offer breaker box installation services in Charlotte, Belmont, Huntersville, Indian Trail, Matthews, Mint Hill, Harrisburg, and Mt. Holly, North Carolina.