We have decades of experience in commercial electrical rewiring and always do the job right.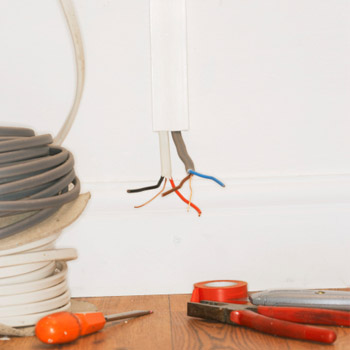 A commercial facility relies heavily on its electrical system to maintain productivity and success. Whether it's a manufacturing plant, a healthcare facility, or an office building, this type of location requires an electrical system with components that always work as expected. Even a minor electrical problem can derail your business or impact the productivity of the employees who rely on equipment that needs power. However, if you have an older structure, the wiring and other components of the system may not be able to handle the modern electrical needs. Buildings built more than a few decades ago may need commercial electrical wiring to ensure a safe atmosphere and electrical outlets and fixtures that always work.
Some of the signs that your structure's wiring may need attention include power surges, shorts, and flickering lights or other electrical components. While some of these concerns can simply feel like annoyances, others can pose safety risks that make the structure less secure for those who use it. At Lamm Electric, we provide commercial electrical rewiring services for property owners and managers in the Harrisburg, North Carolina area. We can check the condition of your current wiring and other components within the electrical system to determine whether rewiring is a necessity. If the wiring is in need of replacement, we'll take care of the task as quickly and efficiently as possible to minimize the disruption to your business. We have decades of experience in commercial electrical rewiring and always do the job right. Contact us to learn more or request a cost estimate for commercial electrical rewiring at your facility.
---
At Lamm Electric, we offer commercial electrical rewiring services in Charlotte, Belmont, Huntersville, Indian Trail, Matthews, Mint Hill, Harrisburg, and Mt. Holly, North Carolina.
Similar Services We Offer: