We learn all about your business so we can recommend the best commercial lighting installation solutions.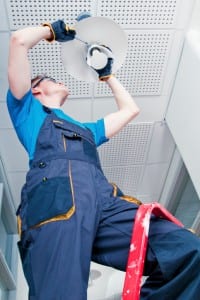 One of the most popular commercial property renovations today involves commercial lighting installation to upgrade to more energy-efficient lighting. Depending on the size of your Matthews, North Carolina building, how many hours of operation, and the number of lighting fixtures used, you could save significantly on your utility bill with this upgrade. Here at Lamm Electric, we provide excellent choices and services for commercial lighting installation. We not only address energy efficiency, but also how the lighting should look for various tasks for optimal productivity, security, and safety.
With more than two decades of experience in the electrical industry, we are confident we can perform your commercial lighting installation in adherence with all local, state, and federal code regulations and statutes. We work with all types of companies to design the right lighting system to enhance the value of the property and provide both the desired beauty and functionality.
We understand that the use of the space dictates the layout and fixtures that are best for commercial lighting installation. For example, an office needs lighting that reduces eyestrain and won't cause headaches, and a restaurant requires lighting that doesn't make the food look unnatural or unappealing. We take the time to learn all about your company so we can best serve your needs.
If you have any questions about our commercial lighting installation or any of our residential or commercial electrical services, don't hesitate to contact us. We look forward to showing you how our licensed electricians can illuminate your business properly with quality products and workmanship.
---
At Lamm Electric, we offer commercial lighting installation services in Charlotte, Belmont, Huntersville, Indian Trail, Matthews, Mint Hill, Harrisburg, and Mt. Holly, North Carolina.