Our emergency electricians in Huntersville, NC will respond quickly and diagnose problems efficiently.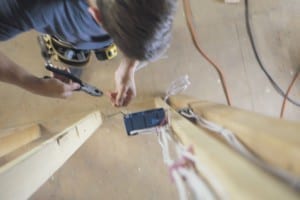 Emergency Electrician in Huntersville – We rely on electricity to do just about everything. We need the power to cook, keep food cold, use electronic devices, complete work and school-related tasks, and see where we are going in our homes and offices. Without working power, it becomes very difficult to get anything done. Sometimes the power goes out in a specific area, leading to loss of productivity and other issues. However, electrical issues can also lead to these problems. If your power is having a problem, whether it is surging and shutting off or won't turn on at all, the first step is to contact the power company to find out whether it is an issue throughout your neighborhood. If not, you may need to call in an emergency electrician to diagnose and repair the problem.
Sudden loss of electricity can be a result of faulty wiring, blown fuse, or another electrical problem. At Lamm Electric, we have emergency electricians who can come to your property as soon as you make the call. We respond quickly and diagnose problems efficiently to get your electricity working again as soon as possible. Our emergency electricians in Huntersville, NC will start by reviewing the electrical configuration in your home or office to find the source of the problem. This might include testing outlets, checking wires, and examining fuse boxes to make sure they are working properly.
In addition to working with property owners, our emergency electricians work with a variety of professionals, such as retail and office building managers, HOA presidents and managers, and industrial property managers. We are available for your urgent needs anytime throughout the day or night, so feel free to give us a call whenever you need us.
---
At Lamm Electric, our emergency electrician proudly serve Charlotte, Belmont, Huntersville, Indian Trail, Matthews, Mint Hill, Harrisburg, and Mt. Holly, North Carolina.