Our emergency electrician can come out to your home or business at any time, day or night, and on any day of the week in Indian Trail.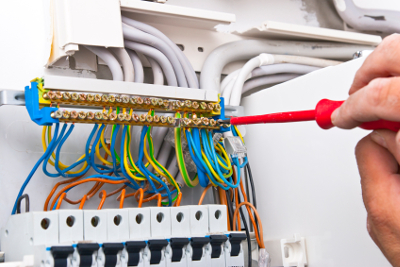 One of the best modern conveniences that we enjoy is electricity. Many of us forget that it's only been around in homes and businesses for a little over a century, so we tend to take it for granted. But with electrical power flowing through the buildings in which we spend nearly all of our time, it's very likely that at some point, you'll experience a problem that requires the services of an electrician. It's important to understand what types of electrical problems necessitate bringing in an emergency electrician and which issues are okay to leave until normal business hours.
Flickering or dimming lights are often bothersome, especially if you're trying to read your favorite magazine or book, but this problem isn't typically cause for major concern. However, sparks and smoke coming from electrical outlets, light switches, or your fuse box are definitely worrisome, since sparks can cause a fire and smoke might mean that a flame is already ablaze within the walls. You may also notice that your appliances and electronic devices cause frequently tripped breakers, which is annoying, but not necessarily concerning.
On the other hand, a buzzing sound coming from an outlet might mean that there's a fraying wire or loose prongs, so stop using the power outlet immediately and call an emergency electrician. Here in Indian Trail, North Carolina and cities in the surrounding 20-mile radius, our team at Lamm Electric includes an emergency electrician who can come out at any time, day or night, and on any day of the week. We're always there for you when you need us most!
---
At Lamm Electric, our emergency electrician proudly serve Charlotte, Belmont, Huntersville, Indian Trail, Matthews, Mint Hill, Harrisburg, and Mt. Holly, North Carolina.