Our experienced technicians can take care of fuse box repair in your home.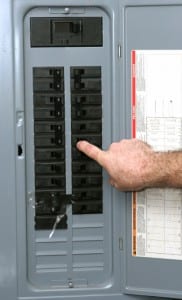 Have you ever been running the vacuum, blender, or hair dryer, and all of a sudden, the power in that room goes out? You probably figured out that you popped a breaker and head over to the fuse box to reset it. But you might be wondering if it is normal to have this happen all of the time. The answer is no, it shouldn't happen often. Occasionally, your circuits are overloaded and a breaker pops, but this should be a rare occurrence. If this happens all the time at your Harrisburg, North Carolina home, you likely have a problem with your fuse box. What you need is for us to come to your home for fuse box repair.
When you need fuse box repair, we will come to your home and see exactly what the problem is. Once we have everything figured out, we will get started on the repairs right away. We will make sure that the fuse box is repaired and that everything is working properly. If your old fuse box is just too old and damaged, we can replace the entire box, so you do not have any further problems. Our technicians are experienced and qualified to do the work. In fact, each of our technicians has at least 20 years of experience doing electrical work. You can count on us to do the repairs for you and for us to do them the right way.
At Lamm Electric, we can provide you with quality fuse box repair services. If you are having a problem with your fuse box, call us today to schedule a service appointment. We will do everything we can to make sure you have a good experience working with us. We are reliable, trustworthy, and experienced, so you can count on us to help you with your fuse box. We have good ratings with the Better Business Bureau, great reviews on Angie's List, and many satisfied customers who we have done electrical work for.
---
At Lamm Electric, we offer fuse box repair services in Charlotte, Belmont, Huntersville, Indian Trail, Matthews, Mint Hill, Harrisburg, and Mt. Holly, North Carolina.