Is your Indian Trail home ready for electrical rewiring?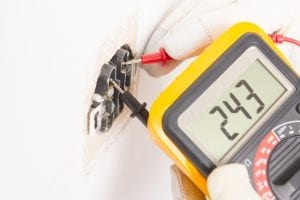 The one thing you can count on with any property in Indian Trail, North Carolina is that the various systems will not last forever — not the HVAC system, not the plumbing, and not the electrical system. Sooner or later, your property will need electrical rewiring for part or all of it. When you think of all the hard work it does year in and year out, it makes sense that, over time, it would begin to wear down. Don't worry, however, because electrical rewiring is not as scary as it sounds, especially if you call us at Lamm Electric to take care of it for you.
With professional training and 22+ years in business, you can count on us to know how to streamline the process, so your costs are kept reasonable and you are not inconvenienced any more than is absolutely necessary. We can handle your electrical rewiring job, whether it is just one room or area of the property or doing a full circuit breaker box switch-out.
The copper in the wiring can really last almost indefinitely, perhaps even 100 years or more, so certainly long enough for your lifespan. However, what if your home is already 50 years old when you bought it? Also, the wiring's insulation isn't going to have the same long lifespan and could become damaged much earlier by a variety of factors, including power spikes and rodent gnawing. For the most part, you can expect to need electrical rewiring in a home somewhere between year 25 and 40. We are more than happy to do an inspection of your home's wiring to let you know its condition and when we advise you to consider electrical rewiring.

---
At Lamm Electric, we offer electrical rewiring services in Charlotte, Belmont, Huntersville, Indian Trail, Matthews, Mint Hill, Harrisburg, and Mt. Holly, North Carolina.