Let us help you with electrical rewiring that will make your Matthews, NC home safer and more efficient.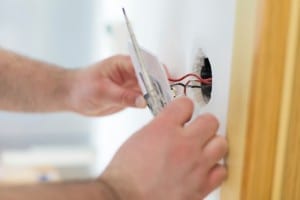 Electrical Rewiring in Matthews – There are a number of situations in which electrical rewiring could be needed for your home or business. At Lamm Electric, we are equipped to handle everything from the small one-circuit job to the electrical rewiring of your entire property. We have been serving the Matthews, NC area for over 20 years with prompt, reliable service you can trust.
Although electrical rewiring is more commonly needed in older homes, there are also times when you may want to proceed with it even in a newer building. This is because homes are usually built only to the minimum electrical standards required by code regulations. These regulations have not necessarily kept up with the electrical drain that a modern family puts on their home. What was fine 20-30 years ago to handle one or two televisions, an average amount of lighting, and regular kitchen appliances, may be ill equipped to handle a television with multiple components in most every room, multiple computers, and today's appliances with tons of bells and whistles.
Although many electronics today are built to Energy Star energy saving standards, just the fact that you have multiple electronics could be putting too much of a load on your home's electrical system. The way to combat this problem is to have electrical rewiring work completed to either increase the number of circuits or use heavier gauge wiring that can handle more power.
The other reason for electrical rewiring is to upgrade a very old system. Wiring is much better today than it was even a few years ago. If you have an old fuse box system, chances are that your home's wiring is in need of replacement. Let us help you with electrical rewiring that will make your home safer. Call us today for information about these or any of our services.
---
At Lamm Electric, we offer electrical rewiring services in Charlotte, Belmont, Huntersville, Indian Trail, Matthews, Mint Hill, Harrisburg, and Mt. Holly, North Carolina.