Our team offers the expert lighting rewiring services you need to make your lighting system as effective as possible.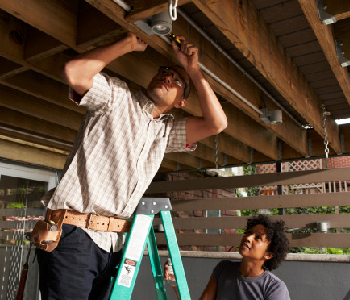 Although today we take electric lighting for granted, when it was first introduced, this technology completely changed the way people lived. As electric lighting has continued to advance, so too has the wiring systems that power it, and modern light fixtures often need modern wiring.
Our team at Lamm Electric has extensive experience in this industry—with each technician having been working in this field for no less than 20 years—and we can help you rewire your lighting to provide the great performance you are looking for. Whether you want to add additional lighting features, change which lights connect to which switches, or anything else, you can turn to us to get the high-quality lighting rewiring services you need.
When you call us for lighting rewiring services, we will first inspect your existing wiring to determine what changes need to be made. From there, we will remove any damaged or outdated wires and then install new ones that comply with modern power demands and building regulations. We'll make sure your wires are laid out in an optimal configuration to ensure each light fixture gets the power it needs. To learn more about our lighting rewiring services, simply reach out to us as soon as possible.
Our team is proud to be a part of the Harrisburg, North Carolina community, and we want to help you improve your lighting system. If you are having any issues with your lighting, we encourage you to give us a call to find out whether lighting rewiring is the best option for your needs.
---
At Lamm Electric, we offer lighting rewiring services in Charlotte, Belmont, Huntersville, Indian Trail, Matthews, Mint Hill, Harrisburg, and Mt. Holly, North Carolina.